Newly released in the U.S. is the expansion to Silent Storm. Actually, this package is "Silent Storm: Gold Edition", which is both Silent Storm (S2) and its expansion, Sentinels (S3).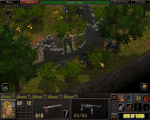 Sentinels continues the story line from Silent Storm; some of the Thor's Hammer group are still at large and as a newly initiated member of the group dedicated to finding them - the Sentinels - it's up to you to lead a squad through a variety of missions designed to dismantle their organization once and for all.
Not surprisingly, there is very little different between S2 and S3 from a technical aspect. Sentinels uses the same engine and combat system as the original. There are all the same classes, attributes, skills, and mostly the same perk system, though I believe I noticed a few minor changes. Even most of the original arsenal of weapons is available, with the same great models and textures. A handful of new guns and other bits of equipment are provided, as the time period here has advanced a few years and new weapons have been developed (such as the AK-47, but also experimental guns and prototypes such as the TKB-408 and Volksgewehr). There's also now body armor, which is a great addition.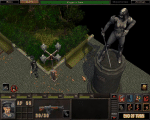 However, there is one big difference between the expansion and the original game. In Sentinels, you belong to a somewhat secret organization that must provide its own funding. As such, almost nothing is provided to you. In a fashion similar to Jagged Alliance 2, your teammates and equipment must be purchased out of your own pocket. To finance your little operations, you'll have to gather weapons and equipment dropped by fallen enemies during your missions. Once you get back to headquarters, a weapons dealer there will buy your loot (at a reduced price, of course) and sell you whatever you need for your next mission. Fortunately, one good change they made was to implement a "loot" screen that appears when you leave a map. From here, you can sift through all items available anywhere on the map through a single interface. By holding down the "Alt" key, the game also shows you the monetary value of all equipment so that you can readily distinguish between the precious and the worthless. The sale price of weapons is also a general indicator of their overall combat effectiveness. A greatly improved headquarters inventory management system groups all similar weapons together and sorts the list by value, getting rid of S2's horrible inventory clutter.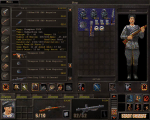 Sadly, the Panzerkleins (power armor) make an appearance in the later half of the game, similar to their use in S2. It's not that I hate them, it's just that they were designed so poorly as to be nearly overpowering to standard infantry. Only a few non-PK weapons can even damage them. In fact, there are several problems brought over from the original game that have yet to be fixed. The weird errors with ammunition that I detailed in my review of Silent Storm still have not been fixed (one Thompson SMG uses .45 ACP, the other uses ".45 Thompson", the M1 Carbine uses "7.62 Garand"). The writing and voice acting are just as poor, and they still haven't corrected the misspelling of "meduim" for grenades. The AI performance seems to have been improved slightly over the original, though not to any great degree.
The game also brings a few new issues to the table. For one, money is quite scarce in the beginning, making the first couple of missions quite difficult, since I couldn't afford to really hire any teammates. There's a particularly poorly designed level in the London sewers that is too tightly timed and nearly impossible to defeat fairly. And while I perfectly understand the need to scale the effectiveness of equipment so that better and better gear is available as you progress through the game, I felt some of their weapon stats were assigned quite arbitrarily and that there seemed to be some fetishizing of prototypes and experimental weapons that never actually saw service.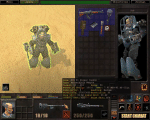 As with Silent Storm though, I mention these problems only for the sake of completeness. I felt this was another worthy game in the Silent Storm line that had me playing almost non-stop. And I would be remiss if I didn't mention the mod capaibilities as well. I've already done one mod that fixes the numerous ammunition and spelling errors that I mentioned earlier. Soon I'll attempt creating new items and weapons as well. So again, anyone who was a fan of the X-Com, Jagged Alliance, or the original Silent Storm, I very much recommend S3. Here's hoping that the S2 engine continues to see service in future games of the genre.
(Download AmmoFixes, a mod for Silent Storm: Sentinels that fixes all of the ammunition and naming issues I could find.)
(Updated Saturday, December 31, 2005 4:22 PM)