They say that the adventure game genre is dead. This, despite the fact that a handful are released each year, such as the continuing sequels to Myst. However, if you're a gamer with a great, undying love for the turn-based tactical squad (TBTS) game, you're bound to be disappointed by the offerings out there. Games in the vein of X-Com, Fallout, and Jagged Alliance are few and far between. So if you are just such a gamer, I would not hesitate to recommend Silent Storm to you.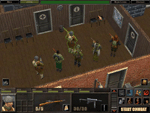 Sure, Silent Storm has its faults, from bugs to design problems. It's still a very solid game with some great ideas on advancing the future of the TBTS game. For those who are unfamiliar with the system of Fallout: Tactics or Jagged Alliance 2, the basic format is this: you control a squad of characters (usually 6, though it depends on the game) and while not in combat, you can move them around in real-time. Once combat is initiated by one side or the other, then the characters or sides each take turns in moving and performing actions. Each character has a pool of "action points" and everything the character does, like moving or shooting, will use up some of those action points. When the pool is used up, the character must wait until the next turn for the action points to be replenished. Silent Storm is a squad-level tactical turn-based game based in the height of World War II. You build a team of special ops saboteurs from various Allied nations and then send them out to wreak havoc upon the Nazi war machine.
And so what does Silent Storm bring to the table? Well, let's start with graphics. Everything is 3-dimensional, so you can pivot the battleground to see what terrain lies behind the buildings you encounter. And they did a great job of building the terrain and meshes. Everything looks very natural from all angles. The characters have smooth and appropriate animations. And we are treated to some very satisfying explosions as well, both in terms of graphics and sound. But JoWood didn't just give us 3D tactical action: they also made the most of the environment deformable as well. Recall the deforestation scene in Predator when a mini-gun with other ordnance leveled a huge swath of trees in a South American rain forest? Yeah, that'll happen in Silent Storm if you want. You can strip an opponent's ground cover by shooting into the trees. But it gets better! You can shoot through most barriers, and the penetration depends on the power of the weapon. Wow, someone gets it! Don't want to alert the enemy troops in the next room? No problem: get a scout to spot the troops through a window from a safe distance, then have your heavy machine gunner pour hot lead right through the walls. Or if you feel that the doorway presents too much of a bottleneck, use a heavy grenade to take out the wall (and a good deal of the floor and ceiling as well). The game even implements ricochet when hitting surfaces at sharp angles.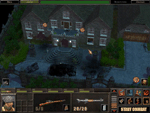 Beyond the environment, Silent Storm has a vast selection of weapons: pistols, submachine guns, rifles, machine guns, grenades, and more (though this would be even more impressive if there were more functional differences between them). For character actions, the game has an option for strafe movement (keep facing one direction while moving in another) and allows different shot types (snap shot, careful shot, aimed shot, sniper shot) that lets you trade speed (fewer action points) for accuracy (reduced chance to hit).
I can't ignore the game's faults though, and there are several. First, the voice work and dialog writing are poor. Which I guess isn't surprising, considering that as far as I can tell, this game was initially developed in German. This may also explain the numerous typos I encountered ("meduim" being the most prevalent, as it shows up for a lot of the grenades you find). And thanks to the constant irritating replies from squad members, I had to eventually turn off voice replies from my characters. Poor translation might also account for the bizarre mix of ammunition encountered. Some of them are represented correctly, like the .45 ACP. But there's a plethora of ammo types that are not labeled by their proper English nomenclature. Instead of 9mm Luger or 9mm Parabellum, we find .38 Parabellum rounds. Some of the Thompson submachine guns do properly use .45 ACP ammo. Others use something called .45 Thompson, which is not interchangeable. One of the weirdest mistakes was labeling the American M1 Carbine as using 7.62 Garand cartridges, while the M1 Garand rifle uses the 7.62 Springfield (they should have been .30 Carbine and .30-06 respectively and they are not interchangeable... blame some of this confusion on the U.S. military for deciding to name official weapons by model number starting right at WWII, so all these new guns are called M1).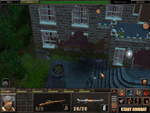 There are some design decisions that you'll need to cope with while playing Silent Storm. Unlike most games, there is almost no concept of armor. Which makes some sense, given the time frame. Still, not even a flak jacket? No, the only armor comes through the introduction of a science fiction element, the Panzerklein (PK). This is a slow-moving power armor loosely based on 1940's technology. The problem is that once you encounter them, they severely change the feel of the game. They're simply too powerful. Fortunately, I only went up against them on the last two levels, so they only impacted a small fraction of my gameplay. Some people may even enjoy them. But I don't think anyone will enjoy the design of the Headquarters interface, which has your group marching from room to room and explicitly talking to NPCs in order to use the HQ facilities. A cute idea, maybe, but cumbersome, slow, and tedious to use again and again, especially when the NPCs will only speak with your primary character. And nowhere (at least on Medium or Hard difficulty levels) do you receive any information on what to do next. Not even info on which country you'll head to. You have to go back to the global map to see what's appeared or is slowly flashing. And while at the HQ, you realize another unusual decision (or is it a bug?): the characters you have in the field, the ones actually fighting the enemy and facing hardships, will gain skills slower than the ones you don't bring with you. Well, this certainly does eliminate the problem of your main squad becoming so skilled that you cannot ever lose any because the replacements can't keep up. The issue it raises, however, is that you'll need to swap out your entire team several times just to keep up with the equipment and encounters you'll be facing. It's not that the personnel at HQ gains skills quickly; it's that the characters in your squad skill up far too slowly. The final design quirk is the weapon penetration effect. Even as it makes for a satisfying effect, environmental damage is overdone in several cases. Three or four shots from a rifle will completely obliterate a door (leaving nothing but splinters). It's easy to destroy a wall or door with several bursts from a machine gun.
Now for the technical problems. The biggest issue was enemy AI. Too often it falls down completely, with enemies not reacting at all to being shot. The issue here seems to be AI confusion over getting shot by an enemy that cannot be seen. The enemy will not duck or crawl or seek cover, but will instead simply stand there. Sometimes dropped objects will spin and spin and spin around, freezing the game until it finally settles. There are some pathing issues, especially when your characters are driving PKs. They seem to have some kind of huge bounding box around them, so it's nearly impossible to get 2 PKs to stand next to each other. This is especially a problem, because some levels have explicit exit doors that have to be used to advance to the next stage of the map, but only if all of your characters are standing right next to the damn thing. Occasionally you'll get a message that your characters can't move because the game is performing path calculations. This makes sense after the destruction of a wall or floor. However, there's one level where this happens constantly, because of a series of automated passages continually opening and closing. And finally, there was a map at the end where the camera boundaries were far too restrictive, preventing me from viewing some sections of the map at certain angles. This should have been a lot more lenient.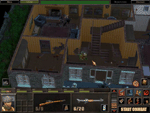 So the game is terrible? No, I list all of these problems because I like to gripe about game issues and this is my forum. The game has been out for like 2 years now, so I don't expect anyone to be issuing a patch any time soon. I write them here so that people aren't surprised when they encounter them. Because even with all these mistakes, bugs, and design decisions, this was one of those games that I fell into and spent entire days at work thinking about. Silent Storm broke into my World of Warcraft addiction and has me seriosuly considering some mod work, even though I doubt anyone is still playing it. For fans of XCom, JA2 and Fallout: Tactics, I think this is a must-play. It lacks the depth and overall gameplay of Jagged Alliance 2, but brings its own wonderful qualities to the table.
(Updated Monday, April 4, 2005 7:04 PM)